Positive Plate .26" Lead Rods

vs. .09"-.11" flat plate

Solar, UPS, Alternative Energy and Energy Back-up Applications - Call Me 831-288-5758 - Best Prices Possible, Kevin

2017 is upon us - Capture those Precious Sun Rays in a Fully Functional Industrial Battery Pack that will last you YEARS! Check out the Capacity and Price and you will see the Value.

12V, 24V, 36V or 48V Power Solutions - Lasting Power for Demanding Applications because that's how they were designed!!! Check KWH Ratings of popular sizes noted on the Price list Below


These batteries provide more than enough power for hardworking industrial warehouse forklifts - where 80% of their total capacity can be used up in a 6-8hr shift - they are also quite good for powering household refrigerators, air-conditioners, computers, toaster-ovens, microwaves, lights, etc. These batteries are the professional alternative to standard golf-cart and deep-cycle 'solar' batteries for clean-energy and emergency power storage. In addition to the much greater storage capacity, battery maintenance is greatly simplified with the cell fluid level indicators. Another big advantage to the professional storage battery is the ability to replace an individual cell if necessary keeping the rest of your investment intact and functioning!. These batteries are designed to be discharged down to 20% capacity for maximum recovery of stored energy if necessary.
MIB is designed from the ground-up to deliver Exceptional Value, Great Performance and Customer Satisfaction!
Brand New Quality Industrial/Forklift Batteries with 5-year or 1,500-cycles warranty (down to 20% capacity - much longer life if less capacity is used on a regular basis before recharge)

Please Note: 5&7 plate batteries have 3yr/900 cycle warranty (i.e 12-85-5 & 12-85-7)
Lead-Acid Industrial Batteries (aka Vented or Wet Cell batteries) offer Long-Life, with Low Maintenance requirements and Reliable Performance
These Batteries are 100% recycle-able!
Give me a call or email me for the precise battery and dimensions: @ 831-288-5758 cell - Kevin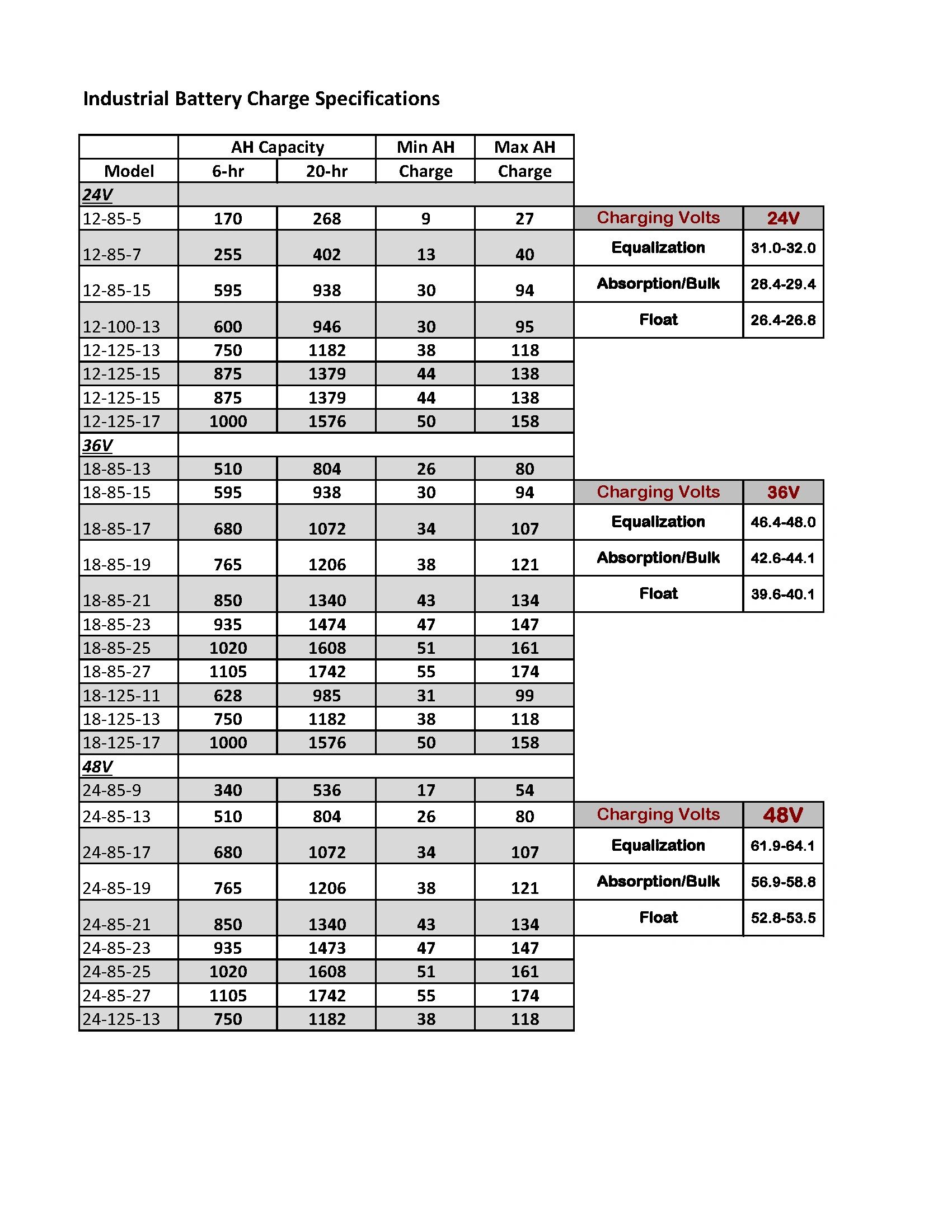 Call for Battery Sizes not listed!!!!